Membership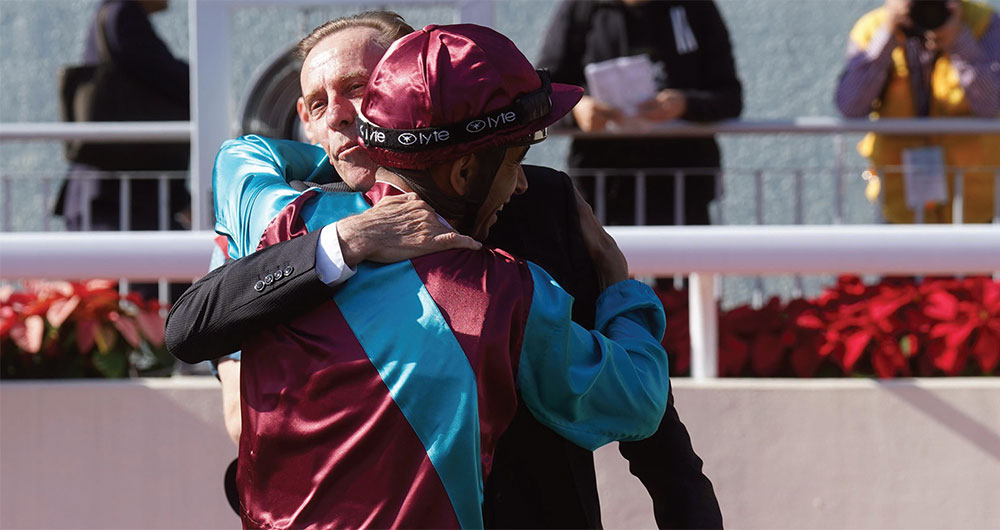 Train for Excellence
The growing legend of John Size, the trainer who believes every horse in Hong Kong has a future
By Leo Schlink
Cosseted against the cold, clad in a scarf and bulky jacket, John Size cuts a conspicuous figure in Sha Tin's sand ring. Leaning on a rail in a favourite horse stall during trial mornings, Size shapes immediately as a creature of habit as he simultaneously monitors the action from the track via a television screen, the recovery of the horses who have already returned after their workouts, and the behaviour of those who are about to head out to the course.
Nothing escapes his unstinting gaze. Size interacts with jockeys and stable staff at length. As usual, he is more intent on absorbing information than distributing it.
At 66, Size is in his element: Hong Kong racing is the Australian trainer's natural habitat, as it has been since he moved from Sydney in 2001. No fewer than 11 trainers' championships have been annexed by the reticent horseman, whose deadpan raceday demeanour fails to disguise a searing, inextinguishable ambition.
On 21 February, fittingly at G1 level, Size became only the third trainer in the professional era of Hong Kong racing to post 1,300 wins with Waikuku's (夏威夷) Queen's Silver Jubilee Cup triumph. To put Size's monumental achievement into context, only John Moore (1,735) and Tony Cruz (1,330, as of 28 February – Size had 1,304 as of the same date) have saddled more victors in Hong Kong. At his current rate of accumulation, Size could easily breach the 1,500-win mark by the time he retires.
True to self-effacing form, Size attempts to deflect credit for the feat. "It probably means I've been here a long time and I'm doing my job well," Size says. "Every achievement along the way in your career is meaningful.
"I couldn't have imagined that in my wildest dreams. Obviously, it's been a good move – very good for my career – and I hope I can do a good job for the customers."
Those who have marvelled at the inner machinations of the Size empire – and the wily trainer's mindset – provide more illuminating insights. None more so than former champion jockey Douglas Whyte, who once formed part of Hong Kong's most lethal partnership with Size.
The South African claimed a record 13 jockeys' championships during a remarkable stint in the saddle. Now a trainer himself, the lessons he absorbed from Size's capacity to digest the small details endure.
"To train 1,300 winners – that's just phenomenal. I worked for John for seven seasons and we had a great team work ethic," Whyte says.
"He's a workaholic and deserves all the success he gets. There are no short cuts; the harder you work, the luckier you get. He's very, very sharp – he does his homework.
"He's there every morning and he gets his horses to the races in great order. There's nothing to explain, really. He works so hard.
"He has a great assessment of a horse. He personalises every horse and tries to get inside their head to see what the horse needs and how he can get the best result.
"I'll never forget one of his comments, 'There's a race for every horse; never mind if it drops from Class 3 to Class 5, every horse in Hong Kong gets its day,' and he's that patient that he gets to win a race with every horse.
"He's a routine freak and he likes to keep everything to a regimen."
In the trainers' tower at Sha Tin and elsewhere, whenever Size's genius tendencies are mentioned, the 2013 LONGINES Hong Kong Mile invariably springs into conversation.
First-up for six months after competing in Japan, Glorious Days (精彩日子) confronted a group of elite milers on a mission that most of Size's peers – and punters – considered likely to founder.
Whyte, who was aboard the gelding that day, was privy to Size's intricate training and comprehensive race preparation. As ever, nothing was left to chance.
"A lot of thought went into that. Glorious Days was a very different horse; he was a phenomenally good horse on his day. However, he couldn't back up," Whyte recalls.
"He had a few ifs and buts about him and John decided to go straight into the International Mile without a run under his belt and it paid off. That's the kind of thing that John can do."
Caspar Fownes has notched up three Hong Kong trainers' championships during Size's reign and, with more than 946 winners (as of 28 February) to his name, has a unique appreciation of Size's latest milestone.
"It's a great effort anywhere in the world, but especially in Hong Kong, where we're racing only twice a week. It's outstanding. He's done it in 20 years or so, which is fantastic – and he's got a few more years left yet," Fownes says.
"He'll probably get to 1,500 winners by the time he's done. To hit 1,300 is incredible. Good on him."
Fownes uses Hong Kong's handicap system to emphasise the true scope of Size's achievement and the challenge of managing horses through the grades in the world's most competitive racing jurisdiction.
"We all need the horses at the right rating to get the job done. He's done really well in the past when he's had the lovely 52-raters creep up into the 80s – it's magnificent to get four wins in a horse in a single season," Fownes adds.
"He's managed to do that on many, many occasions. That's a tough feat in itself in Hong Kong's handicap system, which is very tricky. You need the horses at the end of the day and you're only as good as your horses, but he's done very well.
"His record is outstanding – 11 trainers' titles in the professional era, too.
"With Glorious Days, what a great effort. But you need a certain type of horse to do that with. These gross horses, you can't do it with. You can, however, do that with horses that are a little bit finicky. He was a little bit soft and he knew what he was like.
"Obviously when you're a good horseman, you know what you're dealing with and you should be able to make those cases. It was a bold move and one he got right – and all credit to him.
"In Hong Kong, you need the right horses at the right time in your career to help you, but his record is amazing. He's had many top-class horses and I'm sure he'll continue to do that. He's a star."
Melbourne Cup-winning trainer David Hall has been resident in Hong Kong since 2004 and watched Size's relentless march into the sport's stratosphere with more than a passing interest.
"I think he's got a great mindset. He's been in the game a long time," Hall says.
"He's got history of working out the form; he's also worked out patterns that helped him along the way and he's been able to take the emotion out of it a little bit.
"He's got a very calm, relaxed attitude himself and he puts that into his horses. His training style sort of backs that up and the results have come.
"He's tinkered along the way and got better and better, but probably the most important thing is that he's got a very stable mindset – he focuses on what he wants to do and doesn't get interrupted by anybody.
"He's always there. He's always been a hard worker. He's the first there at the stable and the last to leave on many days, so nobody could question his work ethic."
Hall, whose record features G1 successes in both Hong Kong and Australia, points to International Day in 2013 as the crowning glory of Size's achievements so far.
"The one that stands out for me is winning the international first up with Glorious Days," Hall adds. "To get a horse to line up first-up on International Day and pull it off, you have to take your hat off to that one."