Membership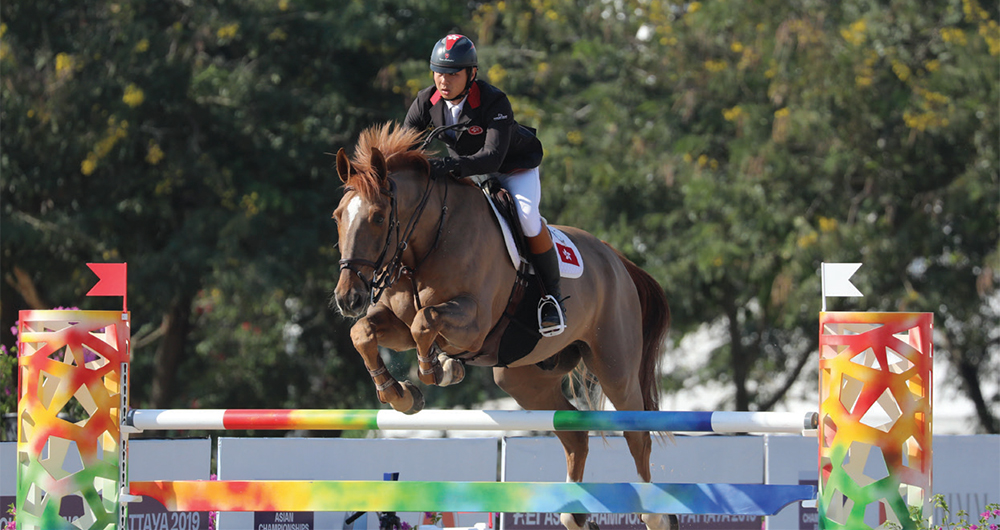 The Show Goes On
Hong Kong's riders strive for peak performance as Tokyo vows to stage the Olympics this summer
Following the postponement of last year's Games, the organising committee recently showed the world its determination to host the 2020 Olympics and Paralympics in Japan this summer, albeit under special conditions. Discussions between the International Olympic Committee and the organising committee have focused on creating a safe, secure competition environment for all involved – athletes, officials and team members. In light of this, Hong Kong riders have been working hard to earn their qualifications despite various disruptions and challenges.
Thomas Ho and Tayberry had already achieved the full Minimum Eligibility Requirement (MER) at Strzegom CCI4*-L and Arville CCI4*-S in 2019. However, due to the requirement set by FEI for the postponed Olympics, they further competed at Sopot CCI4*-S last September, where he earned the confirmation result and thus full qualification to compete in the Olympic Eventing Individual category. Thomas also earned half an MER result with his second horse, Shannondale Vintage, at the same competition, leaving him needing just one MER result at a CCI4*-L by the end of June.
Patrick Lam and The Hong Kong Jockey Club's (HKJC) Claron CR earned their Olympic Jumping Individual qualification at the Vejer de la Frontera CSIO3* Nations Cup last November. Meanwhile, Natasha Tse, Timothy Tsang and Fleur Schrader secured the first-ever team place for Hong Kong at the Paralympic Games and are ready to travel to Tokyo this summer.
We are also happy to report that Kenneth Cheng secured his Olympic Jumping Individual qualification when he and HKJC's Tyson AZ completed Portugal's Vilamoura CSI4* Grand Prix in early March, with only one time penalty.
Patrick and Kenneth are currently the only two Hong Kong riders who have achieved the Olympic Jumping Individual qualification, but others have also set their sights on qualifying. The decision over which of the Jumping Individual riders will represent Hong Kong in Tokyo will be made after the qualification deadline on 21 June.
Amid the ongoing challenges due to COVID-19, the outbreak of the equine herpesvirus (EHV-1) in Spain in February resulted in the cancellation of all shows in continental Europe. Competition and qualifying schedules inevitably had to be adjusted, and riders trained for the Special Jumping Qualifier arranged by FEI for Hagen, Germany in April. While endeavouring to achieve the qualifying results for the Olympics, riders are also busy maintaining their and their horses' fitness for the upcoming Games.
Holding the same determined spirit, the Tokyo Games and the athletes will continue to strive for the best even under the most challenging of circumstances. HKEF sends its best wishes to all involved.