Membership

Countries where horses are usually imported from:
Breakdown of horse imports by exporting country in 2020/2021 season
| Countries / Regions | Percentage |
| --- | --- |
| Australia / New Zealand | 79% |
| United Kingdom / Ireland | 16% |
| Others | 5% |

Overseas Country
Trainer or bloodstock agents contact the Club's appointed shipping agents
Shipping agents organize pre-export veterinary examination and quarantine in overseas (21 days) *
Hong Kong
Shipment from overseas to Hong Kong
Post-Arrival Quarantine at Sha Tin Quarantine Stables (14 days)
Release to trainer stables
* Special quarantine protocol applies to imports from South Africa, please contact Dual Site Stables Operations and Owners Experience Management Team for further details.
Upon arrival, an import administration fee of HK$1,100 will be levied.
Insurance
The Club believes that owners in Hong Kong should insure their horses at all time. Owner who has successfully purchased a horse is strongly recommended to effect the appropriate insurance cover.
Horse Registration
To register a horse which has been permanently imported into Hong Kong, the following documents must be lodged with the Club: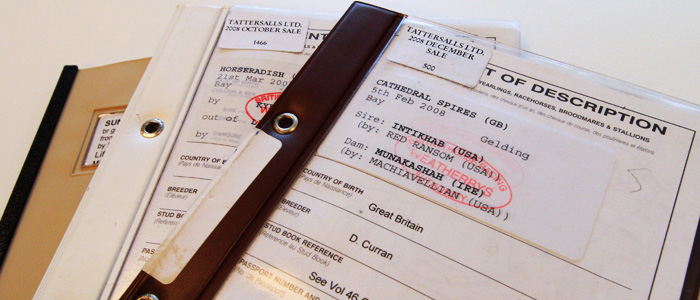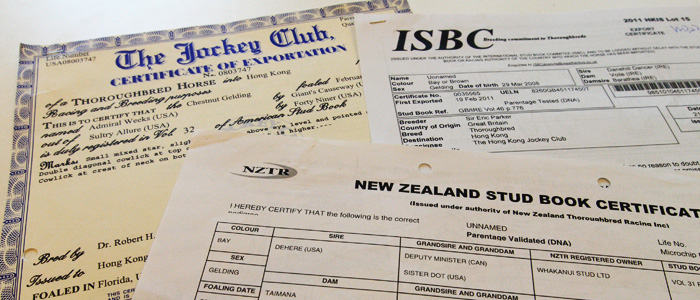 Horse Name Registration
Owners must register a Chinese and an English name for their horses within 1 month from the date of horses' arrival. To submit a new Horse Name, please complete the Horse Name Registration Form (PP / PPG / ISG) and return it to the Racing Registry.
Names not available for selection Click for more details
Notes:
A name previously held may not be re-registered until 7 years have elapsed from the death or retirement from racing of the previously named horse.
The Stewards of The Hong Kong Jockey Club reserve the right under Rule 8 (3) and Rule 35 (7) of the Rules of Racing to refuse to accept any name at their discretion.
The Stewards of The Hong Kong Jockey Club will not normally approve the change of name of a horse after it has been registered in Hong Kong.