Membership
About Young Owners and Young Members

The Hong Kong Jockey Club's Young Owners and Young Members are aspiring individuals with achievements of their own. Being top tier young elites, they are enthusiasts in life whom have passion for racing sport and finer things in life. To celebrate the individualism of this extraordinary group, the Club offers privileged racing experience integrating supreme social status and latest tech gadgets at designated venues in the racecourses. Off the track, Young Owners and Young Members can explore a myriad of tailored lifestyle experiences, with exclusive access to renowned brand names in extravagances.
FUN WITH PONIES PROGRAMME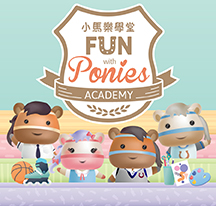 The Fun with Ponies Programme is eligible for registered children of Corporate Members, Full Members or Racing Members who have joined the Beas River Concession Scheme. It allows children to bond with their pony friends and join a series of exciting activities. To learn more, please click on Programme Details.