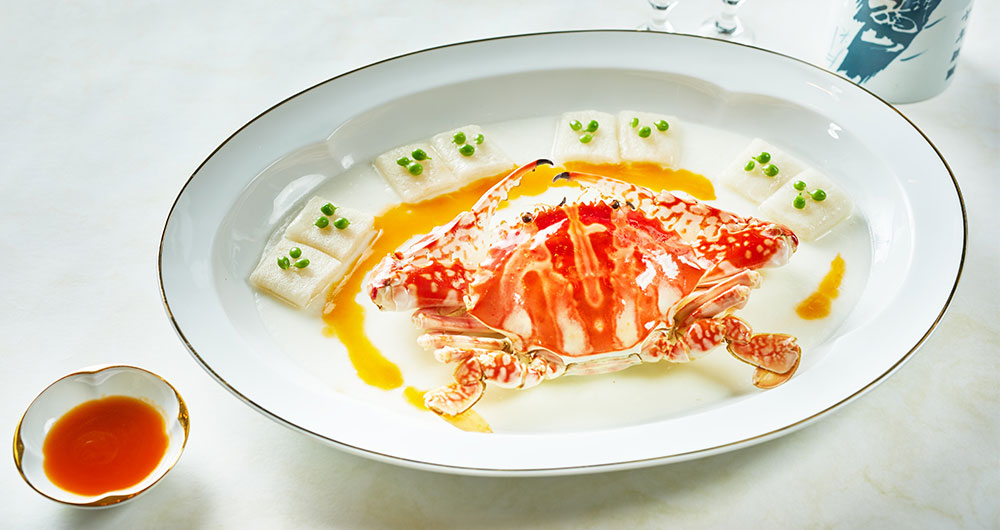 Reaching New Heights
Fortune Room Presents Newly Refined Cantonese Menus
The details of these events may change according to the rapidly changing COVID-19 situation. Please call our Clubhouses or check member.hkjc.com and the Members' Mobile App for updates.
With its new and diverse menu offerings, the refreshed Fortune Room is redefining Cantonese fine dining for Members
The Hilltop in The Valley presents Members with a wealth of Chinese dining options, each with its own distinct character: Trio at Happy Valley New Clubhouse serves up regional Chinese cuisines, and at the Old Clubhouse, The Gallop offers homey Cantonese delights while Fortune Room gives Members a taste of elevated Cantonese cuisine. Whether you are looking to connect with family, friends or business partners, The Hilltop in The Valley has something to suit every taste.
To mark its 20th year of operation, Fortune Room is bringing a new Cantonese fine dining experience to Members. The team has stepped up its pursuit of perfection by evaluating and sprucing up its food and service; a case in point are the new menus offering Members a superlative dining experience that showcases Cantonese cuisine with a modern twist.
With more than 20 years of experience, Executive Chef (Fortune Room and Banquet) Paul Tsui began his career in the kitchen at the age of 16 and honed his craft at various Michelin-starred Cantonese restaurants. Since he joined the Clubhouse a year ago, Chef Paul has been constantly communicating with Members, and his new a la carte menu of innovative Cantonese dishes is inspired and informed by their invaluable feedback.
The must-try new creations combine Chef Paul's culinary flair with the restaurant's four guiding principles: originality, seasonality, creativity and curation. Among the signature dishes is sweet and sour pork (冰梅脆皮咕嚕肉); the chef gives the perennial dish a new lease of life using Yunnan rock sugar and Japanese plum to enhance the flavour and succulence of local pork. Meanwhile, the glutinous rice with crabmeat (生拆蟹肉糯米飯) offers freshness infused with the umami of the seafood broth and the fragrance of the lotus leaf.
Another example of the chef's creativity is steamed red crab in seafood broth cooked with hua diao wine and chicken oil (海鮮湯雞油花雕蒸花蟹). Chef Paul puts a unique spin on this classic dish by using a stock made with more than 10 ingredients, including clam, lobster and crab, which brings out the flavour of red crab and forms the soul of the dish. Careful curation manifests itself as much in the dim sum menu as it does in the roasted boneless suckling pig with glutinous rice filling (糯米釀乳豬). The pork, air-dried for six hours, is exquisitely prepared with a glutinous rice filling that is both steamed and sauteed.
Having grown up around the Aberdeen Wholesale Fish Market, Chef Paul developed a strong affinity for high-quality ingredients early on and continues to visit wet markets every morning to shop for the freshest produce for his creations. On your next visit to Fortune Room, don't forget to ask our staff for the chef's recommendations of the day.
For a full experience of the distinctive tastes available at Fortune Room, savour the Seasonal Gastronomy – A Cantonese Culinary Journey by Chef Paul tasting menu. This six-course feast is inspired by the 24 Chinese solar terms and market-fresh ingredients, and showcases the restaurant's four principles in every bite.
Expect more pleasant experiences and surprises as the restaurant continues to reveal its brand-new look, including redesigned table arrangements, tableware and menus. Come and enjoy Cantonese cuisine and hospitality at the finest level at Fortune Room.