Membership
Pony Adoption
With a small contribution, kids aged from 3 to 12 may adopt one of our four ponies – including Apache and Tigger, our new joiners to our Programme. Engaging with their hoofed buddies and forming a close bond with them through adoption will instil a lifelong sense of responsibility in children.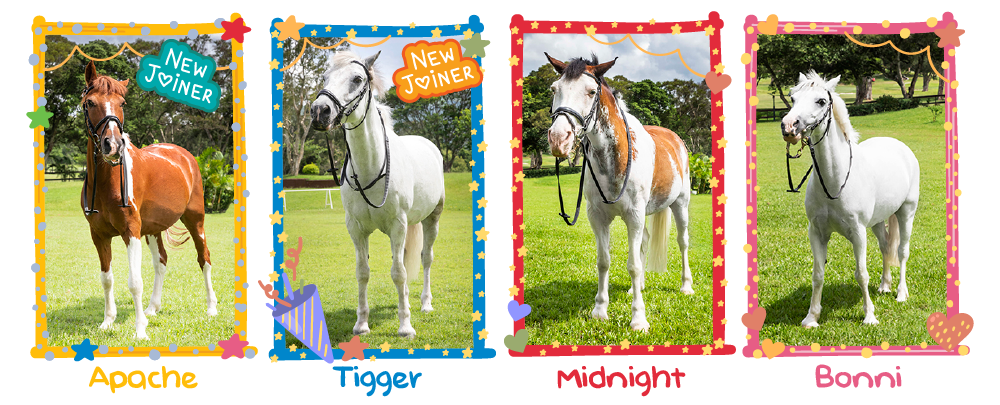 Programme Activities
Upon successful registration, children may join an array of fun and educational activities across our Clubhouses and Racecourses. A series of Pony Mails are also available for subscribed children to help them keep in touch with their dear ponies while being at home.
A Little Pony Ambassador certificate will be awarded to children at the end of the season upon participating in 7 or more activities.
Eligibility
This 'Fun with Ponies' programme ('the Programme') is open to registered children of Full Members, Corporate Nominees and Racing Members who have joined the Beas River Concession Scheme only.
For safety reasons, pony riders must be aged 3 to 12, at least 85cm in height and weight 110lbs or below.
Terms & Conditions:
General:
The monthly subscription fee for the Programme for each Participant is HK$200 and non-refundable. All charges will be debited to the membership account monthly once the enrollment is confirmed.
Each Participant may adopt one pony only. If the adopted pony is no longer available due to any unforeseen circumstances, a replacement pony will be appointed automatically without prior notice.
Bookings with designated pony is subject to last-minute changes due to the pony's health condition or any unforeseen circumstances.
Advance bookings should be made prior to the commencement of Date with Ponies, which are open for booking in the prior month on a first-come, first-served basis. Each Participant can only reserve one session of Date with Ponies in the same month. The remaining quotas for each session are open for bookings on Wednesday prior to the event date if Participant would like to reserve more than one session. A session may be cancelled due to insufficient Participants, adverse weather or any other reasons as The Hong Kong Jockey Club (the Club) sees fit.
The Programme covers the period from September 2021 to June 2022.
Programme activities are only open to Members who have subscribed in the Fun with Ponies Programme.
To unsubscribe, please call Membership Services Hotline 1812.
Event dates and details are subject to change. For details, please refer to Fun with Ponies Programme website or call Membership Services Hotline 1812.
Vigilance measures:
Vigilance measures such as temperature screening and wearing a face mask (except when dining) are being implemented, until further notice.
Vigilance measures are subject to latest announcement from the government.